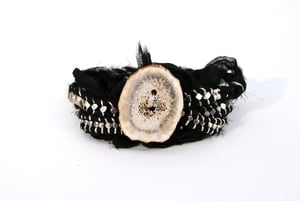 $

95.00
Classy and edgy! Sari silk five wrap bracelet in black and silver . Wear with jeans and a tee or glam it up with leather and heels for a night on the town.
About the materials:
Sari silk is collected by woman in India from the Sari mills the sales from the silk help to provide wages for two families.
African trade beads are handmade beads typically made between the 15th and 20th century. These African beads were originally used as a currency for goods and services. While most of these are imported directly from Africa some were made throughout Europe, and used for trade in Africa, hence the term "African trade beads."
Faceted Hematite sparkles in this bracelet! Hematite is used for love, protection and healing. If you need your personal relationship to be better, carry a hematite with you always.
Details:
Bracelet measures 33" The looped end is made to wrap around the button several times allowing it to fit most wrists, on smaller wrists it will wrap up to 5 times, larger ones 2 - 3. There is 15" of extra fabric, fun to tie in a bow or wrap around and tuck in for extra layers.